by
Admin
on Friday, October 3rd, 2014 |
Comments Off
It's a beautiful Autumn morning; cool and crisp like a JonaGold apple; with a forecast high of 59 and starting off with beautiful blue skies; dotted with a few, scudding, white clouds for contrast. Glancing at my WeatherChannel app, I see most of the rest of the country will enjoy similar, beautiful weather today. Ah, how great is it to be retired and able to enjoy this rather than grouse about having to go to work on such a beautiful day! Oops! Sorry. Forgot some of yuze are still doing that. Hmmmm. How to make lemonade out of that lemon? I got it! Think of how happy you will be when you've joined us!
Am sorry for being absent but did have to do some subbing, which I enjoy and when doing so, I learn about today's youth. (Did I just say, "…today's youth…"?)   OK, let's get to it….
WABBIT STHEASTHON
-ILLINOIS' GUBER RACE…
Before we start, did you know that Illinois is derived from a Native-American word which means "great men" ? Me neither.
Anyway, it is less than a month to our Guber-election and things seem to have slipped a bit for GOPer candidate, Bruce Rauner. Not surprisingly, he is making mistakes similar to Mitt Romney's  but Romney's weren't as damaging as he actually had been a governor, while Rauner still seems to think just saying he'll bring his CEO-style to representative government is all he needs. That and the fact that there is a Libertarian candidate, Chad Grimm. (You wouldn't know it as he's run no ads, period. It seems the Tea Party has drawn many who see neither major political party as worth much more than retaining the status quo, with the only difference being moving…or keeping…it from their perspective.
If…and yes, that's a big word…if Grimm attracts enough disenchanted/dissatisfied/disanythinged, voters to his cause, Rauner will lose, as this is a very, tight race and incumbents always hold the edge.
Here's where guys like Rauner have problems. There are more folks out among the electorate who've been screwed-over…or have friends or relatives who have …or barely escaped it, themselves…by Rauner types. Recall, in '12, Romney ran no ads…made no claims…touting his "successes" as a businessman, by citing any direct instances. Why not? When have we seen any…and I mean A-N-Y…politician NOT plunge headlong into taking credit for anything which might help them…even if their connection to it was tangential, at best? Could it have been that if he had, he'd open up a hornets nest of negs?
Other than similar, oblique-references, Rauner is doing the same.
Again, unless the NRI investigation against Quinn shows it's more than a poorly implemented program, which had a tangential-political connection…they all do,…he has a good chance of being re-elected…by the hair of his chinny-chin-chin. Stay tuned.
-HEY, WAT! WHAT DAY IS IT?
It's "National Angel Food Cake Day"! That should be Feel-Good, no?
Otherwise, historynet.com has some stuff for us as to what's happened on this date in…
19AD,   Germanicus, supposedly the best-lover of Roman princes died from being poisoned. Well, maybe someone didn't "love" him that much, after all, huh?
1733,   There've been some crazy reasons for wars starting but this one may take the cake. France declared war on Austria over…are you ready?…over Polish succession. France…Austria…Poland.
1789,   Once again, the French determined that the most humane way to carry out a death sentence…how's that for an oxymoron?…is decapitation by a single blow of a blade. So, does that make Isis-Isil-Aholes humane?
1845,   The United States Naval Academy was founded at Annapolis, Maryland. "Anchors aweigh, my friend!"
1911,   The Panama Canal opened. Next time you get all pissy about having to pay a toll on an Interstate, think of some of the ships which travel through the Canal some of which pay upwards of $250,000.00 to use its shortcut.
1969,   #4 on his back and #1 in the hearts of Packers fans…until he joined the Vikings…Brett Favre was born.
1971,   After having been dismantled in 1967, the London Bridge reopened in, of all places, Lake Havasu City, Arizona. I'll just leave that at that.
1973,   TrickyDick's attack dog, Veep, Spiro Agnew, resigned in disgrace. He was followed by Gerald R. Ford, who ironically, replaced Tricky Dick as Prez after Tricky Dick resigned his office in disgrace. Ford then became the only non-elected Veep and Prez in US history. More importantly, the former Navy Aviator's name now identifies the newest class of American aircraft carriers. Always liked him except for that gaffe about Poland NOT being under Communist rule, which he never recanted. Too bad.
-JUST HOW FAIR…OR UNFAIR…IS E-COMMERCE…
amazon.com is – reportedly – opening a "brick and mortar" store in NYC. Am not a fan of theirs. No, I don't like paying high prices or sales tax. I just don't like that when I'd bought something, I got inundated with those pain-in-the-heinie, "You May Like This" emails and ads.
That and the fact that they operate under different rules than other shopkeepers, in that in many states, their sales are not subject to any state sales tax. Maybe because at one time, my family operated a small, neighborhood grocery store, I don't like this. What I mean is, it's one thing to have access to innumerable products of innumerable varieties – or provide it – but quite another to then operate on an even less-than-even-playing field. There are independent business-owners reading this. Maybe they could enlighten us as to how unfair this is. And I don't mean like some 3rd-grader, yelling, "No fair! No fair!" If one is smart enough through e-commerce to spread one's overhead  around to the extent that it is nearly non-existent in comparison to one who operates the "B & M" stores, fine. But to do that AND get away without the need for the overhead of handling sales taxes; charging them, thus causing overall costs to the consumer to rise to near the same level as the B & M's, just doesn't seem fair.
That and the fact that they make WalMart look like pikers in what they have done to decimate small, independent, businesses.
DUCK SEASON
-PRODUCT RECOMMENDATIONS…
I seem to recall having done this before but maybe not. In either event, here are some products we've tried and liked.
1. "Method". These are a series of "natural" cleaners/cleansers, which do not contain any petrochemicals or other nasty chemicals. AND THEY WORK!
I first saw them on an episode of American Test Kitchen, when Chris visited Adam for a product review". In it, Adam described how effective these cleaners were in comparison to the others, to the extent that the "germ-killing" levels were 99.5% as opposed to the 99.9% required by the Feds and achieved by the chem-based products. But, for everyday cleaning…and to NOT have one's house smell like bleach, these are more than adequate.
We came about buying them when a Watette told us she's bought some and how well it worked, so we tried one. It worked. (We did not try the bathroom cleaner as we had to first determine if it was safe for acrylic surfaces. It is.) Then, when we told another Watette, she said she'd used them for years! Who knew? We then purchased their bathroom cleaner and it works…takes a bit longer than Tilex to "bleach" out mildew in tile grout lines but it did so and without the necessity of opening a window or turning on an exhaust fan.
Literally, spray, wipe and admire. Just like it says on the bottle.
We got them , on sale, at Walgreens. However, they are also sold at Home Depot and – possibly – at a lower price. You may like them.
2. Kirkland bacon. One of the problems with shopping at Costco is also one of its plusses…buying in bulk. More on this in a bit.
Not too long ago, MBH decided to make some homemade German potato salad, with vinegar and bacon. (It's delish, Ts. Just DEElish!) Anyway, we'd bought a package of leanish bacon, which she said didn't leave enough grease. (Yeah, I know but without that, well….) Anyway, we're walking through Costco and we sees a package of their house brand, "Kirkland", bacon. Thing is, it's 3#s! We decide, the hell with it and buy it, figuring we'd find uses for it if it didn't fit the bill for the potato salad. It did. AND, it's as good a bacon as we've had. There's enough fat to give it the flavor but not so much that once it's cooked, there's only a few, crisp morsels left in the pan. AND, you can freeze bacon with no real loss of any kind…and as it's Kirkland, it's far less expensive than old standby, Oscar Meyer. Enjoy!
3. Ocean Spray Diet juices. As I am borderline diabetic, I must watch my sugar intake. A few years ago, one of you had some of this at a function, purchased for me because of that. Yesterday, MBH 'n' me bought a bottle of their Diet
Cran-Cherry. It has 1-gram of sugar per 8 oz. serving with only 5-calories! In other words, it's not all full of sugariness.
You can drink it; be refreshed and not worry. Yes, it's a bit  more expensive than their other products but if only buying for one or two it's not that bad.
-MANY HAPPY RETURNS OF THE DAYS…
Am mentioning this in the abstract in that I may be missing some of you…or not but here goes.
Among our coterie we have more than one "Boitday" boy or girl, this month. From three of whom who are celebrating their "Ray Nitschke" year…66…or two-thirds of the sign of Satan, to others who, well, may be a tad older, many happy returns of these days…if already celebrated or not as of yet!
Looks like February…"Valentine's Day", maybe…was a busy month.
-SOME NOT-SO FEEL-GOOD NEWS…
Former SNL cast-member, Jan Hooks died at the age of 57. Too young.
-ON THE BIG SCREEN…
"The Judge". This film's only garnered lukewarm reviews which should be surprising, should it not? It stars Robert Duvall; Robert Downey, Jr., Billy Bob Thornton; Vincent D'Onofrio and Vera Farmiga, among others. So, how does that happen? Apparently, the director went for clichéd performances where nuance and depth were easily within reach of this cast. Roper gave it 2-stars; Dean Richards, a B-; the Trib, 2-1/2. Not exactly glowing. Oh well.
"Dracula Untold", believe it or not got 2-1/2 stars. Yes, it's October, so stories of the macabre will be in full flower or should I have said, full-death. Sorry. Never quite got into the "vampire thing" with the exception of Kate Beckinsdale in the "Underworld" series. Otherwise, not my brand of single-malt.
"Kill the Messenger", Jeremy Renner's film of the guy who uncovered the Iran/Contra Affair and what happened to him afterwards gets 3-stars. It'll be interesting to see just how long this lasts as well as how it is received by establishment-types. Will this film get the kibosh from on high?
-TUBULARLY SPEAKING…
We're caught up with "Person of Interest", CBS,  and as implausible as it is, it's even better this season…so far. They have succeeded in making this more about Finch, Reese, Shaw, Lionel and Root…and their "good machine" vs Decima and their "Bad machine", which they call, of all things, "Samaritan" a kind of a Good-Skynet V Bad Skynet, with governments not even aware that their complicity in the name of order may lead to the eventual takeover of everything by the Bad Skynet.
So, what we are left with are good guys being told…or guided…to act on behalf of good, which sometimes travels a not-so-good path, by a real "Samaritan" of a machine to combat its enemy, the bad "Samaritan". This week's episode spelled that out.
This opens all sorts of new venues for them, in that their acts/actions are not confined to shall we say, "anti-government" acts. Also, the cast pulls it off quite nicely. I would love to have this show on premium cable, where they could really unleash the Krakens of these characters.
"The Blacklist", NBC. The addition of Pete Stormare as Red's nemesis, "Berlin" has been worthwhile. This week, hell, they even had PeeWee Herman as one of his Red's henchmen! I did read that this season would be "darker" and so far, it is. Some are wondering if Mary Louise Parker, Red's ex, is Lizzie's Mom. If nothing else, she has to know something as it was tipped in the previews of this coming Monday's episode.  At least they have gotten away from blowing up half of NYC; DC or some other world-capital with no one asking anything about it. So far; so good.
"Homeland". When I first began watching…not from the beginning…I did not like the show's main character, Carrie Mathieson, played by Claire Danes. After Sunday's double-episode season premiere, I like her less or dislike her more. Still, the stories are gripping and based on recent events, which make it watchable. That said, it is doubtful any other type of person than Carrie could pull off what her character does.
THE 2015 ROCK 'N' ROLL HALL OF FAME NOMINEES ARE…
The Nine Inch Nails; Lou Reed; The Smiths; Green Day; Kraftwerk; Joan Jett and the Blackhearts (love the name, only one good song); Sting, (definitely); The Paul Butterfield Blues Band, (uh-huh); The Marvellettes, (uh-huh); The Spinners, (maybe); Stevie Ray Vaughan, (uh-huh); War and Bill Withers, (maybe).
Any thoughts?
"The Chicago Marathon" is being broadcast on local NBC outlet, CH-5, Sunday morning, which brings us to…..
AND NOW…SPORT
WOW! IS THIS A WEEKEND OR WHAT?!?!?!?!?!!?!?!?!?!?
-WE'LL BEGIN WITH THE MLB ALCS & NLCS PLAYOFFS.
It's the heartland vs the coasts, what with Missourah's Sent Louis Cardinals and Kansas City Royals squaring off against San Francisco's Giants and Baltimore's Orioles. The TV networks are hoping for Baltimore/San Fran as opposed to St. Louis and/or KC, at all, as they are both small-market teams.
Notwithstanding that, there are four, solid teams playing each other and if I have the time or opportunity, I'll probably tune in for some of it.
Haftasay, with no dog in either fight and NFL football in full swing; the NHL back, read that, the Hawks, MLB's taking a backseat. Especially with it being almost mid-October and the playoffs just start, tonight.
Well, my Dog just fired and hired its hitting coaches. No wonder at the old guy getting the axe, what with the team leading MLB in strikeouts with 1477. Interestingly, KC had the fewest with 985; the Cards were tied as 4th best with 1133; the Giants were14th with 1245 and the O's were 20th, with 1285. If this doesn't show how silly it is to say "…strikeouts don't matter…", I don't know what does. Granted, grounding into a double-play counts for 2-outs but if there's a runner on 3rd, he can score. Contrast that to the number of runs which could score on strikeouts. Get it?
-THE NHL IS BACK
The Blackhawks opened with a shaky, shootout-win in Dallas, last night. Watched some of it and even MBH noticed the Stars had more shots-on-goal than the Hawks. A short time after that comment, Pat Foley announced they'd been outshot 20 to 8 at the time. That said, Corey Crawford stopped 32 or the eventual 34 and they went on to win on Kaner's shootout goal, the only one in the period. No, I don't like the shootout. Yes, I'm glad they could steal 2-points.
-NO MORE POORMOUTHING BY THE NBA…
Not after agreeing to a new TV agreement with ESPN and Turner Spors, worth, ahem, $2,000,000,000.00 per year to the League. Here's a link…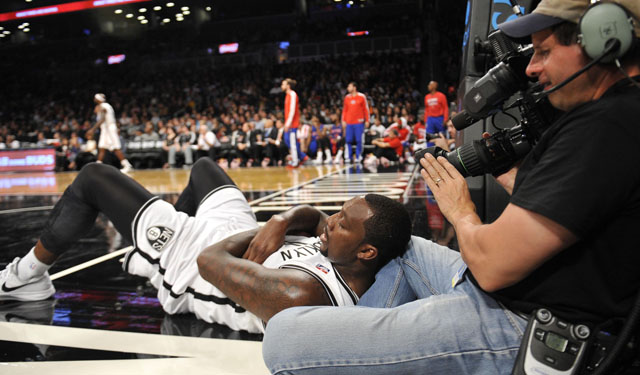 Report: NBA nearing TV deal extension for over $2 billion annually
It's going to be impossible for any team to cry "poor" any longer. If they do, they'll be holding themselves up to scrutiny as to how anyone could FUBAR that kind of income?
That said, that's a Major Major Major Major Feel-Good for the NBA owners and players.
-WHICH BRINGS US TO THE SOCIALIST FOOTBALL COLLECTIVE'S MANY SPLENDORED THINGS…
Speaking of new contracts, didj'all hear about the DirecTV contract extension? $1,500,000,000.00/year for the next
12-years. How's THAT for a non-profit organization? They now will gross in excess of $10,000,000,000.00/year for the next, 8-years.
"Confiteor Dei", which means, "I confess before Almighty God"…that I am one of "The Mob". In an earlier life, I may have stood and shouted, "Maximus!" Maximus!" Maximus!", in The Coliseum, as I enjoy the modern day  gladiatorial spectacle as provided by The National Football League. Yes, I hunger for those devastating hits; be they blocks or tackles. That despite the knowledge that those being knocked senseless during those blocks and tackles are more than likely suffering from serious, debilitating injuries; some fixable; some not.
…AND…
That's with situations like…
…Adrian Peterson, being so stupid that while he's out of jail pending his trial, he smokes some weed, causing the local prosecutor asking that he be incarcerated.
…,Former Bears GM,. as well as Cowboys; Bucs and Giants exec, Jerry Angelo openly stating that he knows of "…hundreds and hundreds…", of domestic-violence cases which were, "…swept under the rug…".
…in the face of these sorts of things, the NFL, immediately, fined Niners QB, Colin Kaepernick $10,000.00 bacause he wore "Beats" headphones on the filed instead of their "partner", Bose', but they'll have to "wait and see" about off-field misbehavior.  And with that…
WEEK 6 IN THE SOCIALIST FOOTBALL COLLECTIVE…
Locally…in ChiTown, that is…we get…
…Joe's Yets! hosting Denver. Why CBS would choose to show this game in Chicago  instead of the Steelers/Browns is anyone's guess.
…My Packehs @ Miami at Noon at Miami. Big game to win. If they do, they're assured staying tied for the D-lead.Then…
…DaBears @ Buck's Hotlanta at 3, local. This one might well eclipse the 53.5 over/under by leaps and bounds. If you like offense, this one's for you. Nearly a "must" win for Bears as wins by Detroit and/or Green Bay puts them 2-games behind with 10 to play…or the Bears 2-back.  Yes, they do play all of their division 5 more times before the end of the year but two games is hard to make up.
…GnatBirnBaums at Rene's Iggles. If you like offense, this one's for you, too.
…Bill's Niners at the Rams. Niners are only favored by 3.5, which is interesting in that the Rams are playing without starting QB Sam Bradford.
…Whitney's and Emmanuel's Pats are @ the surprising Bills. Pats are 3-point faves? That's all?
One other game of note is the Cowboys ate the SchittBirds. Generally, I have less than zero ,liking of anything that has anything to do with the Cowboys. But this weekend, the enemy of my enemy is my friend and thus, I hope Dallas destroys Seattle.
As always, feel free to add your comments on anything…
OK, time's up. The clouds have parted so I'm taking that as a sign to get out and mow my lawn and enjoy that sunshine while I can.
Take care; have a great weekend; Happy Birthday to all to whom it applies and I'll seeya Monday. In the meantime; in between time; any day we do not wake up looking up at daisy roots is a good one.
DaBigFatWat