by
Admin
on Wednesday, August 5th, 2015 |
Comments Off
Good day! Yeah. It's been awhile. Hope all is well with all of you or as well as any could hope for. (Yes. I just ended that sentence with a preposition.)
I've decided to "…get back to where I once belonged…", inasmuch as I finally broke down and bought a new keyboard, eliminating that infernal sticking, "Y", key. That and, well, I missed this. I'd been doing a lot with Facebook…but if all y'all think I'm crazy, mosey on over there. We may disagree on things here but mostly, when we do, they are factually based. Over there, well, never mind.
Anyway, I'll be doing this a bit more often as there's quite a bit going on in the News, Entertainment and Sports. So, let's get started, shall we?
                                                                                           WABBIT STHEASTHON
WHAT DAY IS IT! HEY, WAT! WHAT DAY IS IT? IT'S…
National Watermelon Day…here's a little Mongo Sanatmaria to help you keep that in mind….
Mongo Santamaria – Watermelon Man
…and…I am not kidding,
National Grab Some Nuts Day. All y'all can make up yer own pithy comments, while yer grabbin' some nuts..
Of course, we have some momentous events…some not so…which occurred on this date in history. Let's see what historynet.com and hostoryorb.com say they were in…
8 AD,     Tiberius defeated the Dalmations. Apparently, they could only muster 100 to face him.
1347,    Six burghers in Calais surrendered to Edward III of England. Probably didn't want to get served up with grilled onions and a side of fries.
1492,    Led by Christopher Columbus, the Nina, Pinta and Santa Maria set sail for the "Indies" from Palos de la Frontera, Spain. Good thing t'weren't no Republicans a-waitin' on 'em, huh?
1610,    After discovering a YUGE bay on the east coast of Canada, eh, Henry Hudson thought, "Well, who the hell else discovered this?" and named it after himself.
1805,    Mohammed Ali became the new ruler of Egypt. No word that he dodged their draft by saying he did not believe in violence.
1934,    Adolf Hitler merged the offices of Chancellor and President, declaring himself, "Fuhrer". No biggie, right?
1967,    LBJ announced he was sending 45,000 more troops to Viet Nam. You recall that, right? The very same guy who said he wasn't sending any American boys 9 or 10,000 miles away to fight a war Asian boys should, so he didn't, right?
So, what else is new?
-The GOP prezdent-debate is Thursday. Sad to say, the one guy I'd once said I could vote for, "Jeb", recently came out and said he agreed with his bro's actions. Yep. Uh-huh. GeoBu2. That guy. The one who "inherited a budget surplus and like a drunken AWOL Texas Air Guardsman", peed it away; declaring two wars and cutting taxes while he did so. That guy. Oh well.
Locally…
-Wowzers! Ella Noise is teetering on insolvency with ChiTown, not too far behind. Here's the kicker. Our "leaders" haven't done a damned thing to alleviate it. Oh, they've tried some obvious things, which they were warned were probably unconstitutional and were found to have been so by Ella's Supremes. Jeepers, if this weren't so serious, it'd be hilarious.
Notable Quote…
-"One of the reasons I voted Yes was precisely because the CEO had knew these folks and thought highly of them". This appeared as a caption under a picture of the speaker.  I had to read this twice to be certain it wasn't a typo. It wasn't. "…had knew…"? What tense is that?
But wait. There's more.
The quote appeared in this morning's S-T and was in reference to Chicago's Bd of Ed's penchant for unanimous votes.
But wait! There's morer!
The "speaker" was none other than the former interim President of the Board of Ed., and current Board member, Jesse Ruiz. Guess he's one a dem-dere guys dat're gonna give doze-dere kids da kinda schools dat he had knew they deserved".
On a lighter note…
- The town of Albion, Ella Noise, which is "dry" is also the site of a med-Mary Jane farm. Here's a link…
'Dry' town site of new medical marijuana farm
And for those ChiTowners who just can't get enough of IndianaNoPlace, Amtrak has ensured there will be daily rail service between the two.
Don't know 'bout you but I can't wait!
                                                                                       DUCK SEASON
LOLLAPALOOZA.
-ChiTown's mini-Woodstock just ended and it wouldn't have been "Lolla" without some kind of weather situation. At least this year's didn't leave Grant Park an oozing quagmire, though there was an emergency evac of the patrons due to some strong storms nearby.
Interestingly, "Lolla" usetabe more "cutting-edge" acts, most – if not all – of whom this aging-rocker wouldn't know from a hill of beans until I'd hear them play…and then maybe not. But this year Sir Paul headlined, along with Metallica. Not that they aren't icons but they are members of the R 'n' R HOF, which isn't quite what one would expect.
TUBULARLY SPEAKING…
-"True Detective", HBO.       SPOILER ALERT!       SPOILER ALERT!      SPOILER ALERT!     SPOILER ALERT!     SPOILER ALERT!
I'd previously mentioned FB. I follow some high-end pubs: NYT; WP; The Atlantic", etc., but their TV critics seem to never have read a novel…or anything longer than an FB post. They're complaining about the story taking too long. Hey, it's an 8-episode series, with a 90-minute series-finale next week. I'll repeat: "A 90-minute season finale, next week." Feature films used to run 90-minutes. Each episode runs an hour, at least. Yes, the exposition was a tad slow but if anyone doesn't know who's who and what's what by now, they haven't been paying attention.
Here's a kicker. I'm hoping Vince Vaughan's "Frank Semyon" succeeds. Yeah. I said something good about Vince Vaughan. He's the kind of anti-hero an audience can get behind. Think of a faithful-to-his-wife,Tony Soprano.
I've felt one of our "TD"s would have "bought the farm", as it just didn't seem plausible they all would succeed. Thing is, we don't even know if the last two will, either. And isn't that what a story is supposed to do? Give us enough hints, while at the same time not telegraphing the end. I'd thought the guy who'd shot-gunned Ray was , either, Blake or his old boss, Lt, Burris. Looks now that it was the latter. How? They're the only guys who are skinny enough to have been the bird-masked-shot-gunner.
Is it as good as last season's? No, probably not. However, Nic Pizzalato had said it took him 8-years to write that. This season's had to be much less. And, as good as last year's was, it wasn't perfect.
One thing I didn't like from last night was Ray and Ani doin' the deed. I understand. These are two, very-damaged-people, who seem to have found enough in each other over their months of trying to solve this intricate mystery and all the inherent violence, which is also fraught with danger for anyone who gets too close. Maybe at the end of next week but then, one or both, may no longer be there.
Next Sunday at 8 is "appointment TV" around here.
In the event some think this story cannot be true, check out this link…
Let's Explore The Corrupt Town That Inspired True Detective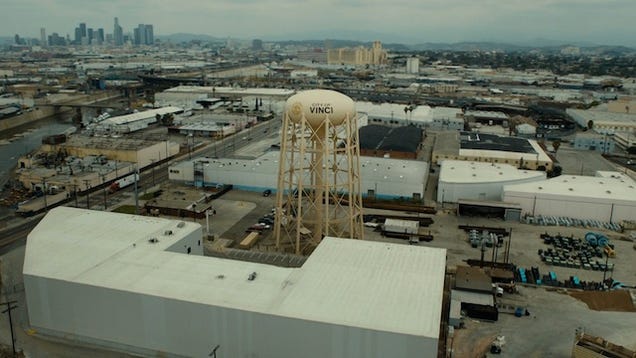 Also, the Trib's John Kass, put his imprimatur of mobsters, noting it's really a Chicago-story, which should take place in Melrose Park. At one time in my life, when I was quite young, I became acquainted with one of these guys. He was affable, almost nice. Liked to call me "Richie". It wasn't until I saw an item on a murder attempt on his life, with he being described as a "vicious mob-bookie".
-"Ray Donovan", SHO. Talk about "damaged people"! Holy Moley! Ray's 3rd season has his mentor, Ezra, (Elliott Gould), dying; his widow giving Ray the "what for" when he shows at Ezra's wake; Lena and Avi trying to stay cool with him but leaving and Ray finding a new "Padrone" in Ian McShane's Mephistopholean-billionaire, Malcolm Finney. He hires Ray; then wants to buy him out, which Ray refuses, saying, "I ain't for sale". Unfortunately, Mick (Jon Voight), and his band of merry men who decided to rob that medical Mary Jane store last year, found his son, Terry, going to prison, where he encountered some Skinheads who kept hassling him; challenged him to a fight; shivved him in the fight, which he ended by beating the shivver's head in with a 5# weight-plate. Ray's guy on the inside, a guard, told him Terry was going to be killed. Ray tries everything to no avail. However, originally when he had been summoned to Finney's mansion, the Governor was just on his way out. Ray returned to "Mr. Scratch", asking – no, begging – for his help. He signs the agreement, which strictly binds him to work for Malcolm and Malcolm only. I'm leaving out quite a bit, I know. You can catch up as it's only Week 3, I believe.
On the home front. things are really messed up. Abby's a wreck and seems less in "control" of the kids with Ray gone. Bridget shows her no respect. Conor. Well, Abby walks in on him "humping his bed". (That was funny.) She then finds a stray dog, which seems to fill a void for her, only to be let loose accidentally (on purpose?) by one of the kids.
It can be really hard to like Ray, while at the same time, it's hard not to. He's as messed up as Bunchy, just smarter, after having been abused by a priest as kids, as was Bunch.
Didn't watch last night's episode last night as it's on the same time as "TD". Will give it a look today.
Oh yeah. Ian McShane's been signed for a role in Game of Thrones. It's said to be a "mystery role". Could he be the dude who runs the "Iron Bank"? He'd be perfect for that.
SHOWS WE'VE STOPPED WATCHING…
-"Under the Dome". CBS Wow! Did this one go off the rails in a hurry. It was OK for awhile but man, it went form  "curioser and curioser", to the point of, "Are you effin-kiddin' me?"
-"Extant". CBS. Another one which had a promising beginning and just petered-out. This despite a passel of solid actors, including Academy Award winner, Halle Berry. The story was just too thin. Like a soup which was prepared for 10-servings, when 20 show up, there's only so much water that can be added, without depriving it of any flavor. Oh well. Same goes for "Under the Dome".
That I cannot recall the last feature film we saw at the show, speaks for itself.
                                                                                         AND NOW…SPORT
IT'S AUGUST. DO YOU KNOW WHERE YOUR BASEBALL TEAM IS IN THE STANDINGS?
-Last week, I did a FB-post about how niuce it was that both Chicahgah's MLB teams were: 1) in 3rd place and 2) were in contention for their respective playoffs. I also mentioned this to T-Arnold, yesterday; then switched over to the Sox game, only to see them down 6-zip to the Yanks. Oh well. They're still only 3-1/2 games out of the 2nd wild card, though. Which is still better than last year. As usual, I'll leave the Sox-stuff to the ABDN-consortium. Will say, though, that "standing pat" at the non-waiver deadline was interesting. Though, we have no idea of what went on between they and whomever they may have heard from.
Also, Joe, Rene and Whitney are free to chat-up their teams.
DaCubs.
-Thursday's game, hosting the Giants, will be the two-thirds-point of the season. That they are in any kind of contention is amazing. As you may recall, I had them at 83/84 wins. With 57-wins now, if they go ,500 the rest of the season, they'll win 86. Not bad. Still, they're 4 behind the Pirates for the Wild Card/division and 9-1/2 behind the 'Turds in their division. And, are now tied with the Giants for the 2nd Wild Card. Whodathunkit?
But wait! There's more!
This is the week that is. They travel to Pittsburgh for three; returning home to host the Giants for four. This will be their crucible, in that theare head-to-head with the two teams with which they are in direct competition for their wild card hopes. In other words, these seven games just may show us if they are, in fact, contenders or not quite ready for prime time. Also, Joe's Mets are tied with the Nats, 2-12 back for that 2nd wild card slot. Generally, I don't like adding extra wild card games…the NFL is said to be thinking of that…but holy caw, look at all the ineterst in all the teams!
-"The Schwarberbator". That's the numb-da-plum I hung on him, when the S-T's Rick Morrisey asked. Here's the deal. This kid can flat out hit. He has that short-stroke, with which he generates tremendous power. The question is, do they move him to LF? I know they can't right now, with Miggy on the DL. But when he returns, they need both bats. As catching is 'the' defensive position…and that Miggy's much better…and can hit for a catcher…I say, yes. Recall that Billy Williams wasn't any Willie Mays out there, either. If he got to the ball, he'd catch it and his arm was OK. Catching, also, drains the strength. Of the three best-hitting catchers I've seen: Berra, Bench…and Piazza, which is a stretch, he was also a DH…they all suffered from playing the position. Berra was moved to LF in order for the Yanks to have Elston Howard behind the plate and his big-bat in the line-up. The Reds tried playing Bench at 1st to save his strength.The thing is, this is something which should be done in the off-season and Spring Training. Anyone who saw Craig Biggio's acceptance speech at MLB HOF, will understand.
Rizzo. Wow, is this kid a stud! Had a bit of a dip after the All-Star Game but seems to have rediscovered his swing. Yes. It was against the Brewers.
Bryant. He's the goods. Is still a rookie, remember. Was at his walk-off-homer game, last week with T-Tom. Still, his B/A's dropped. Lotsa "Ks" but lotsa RBIs, too.
Soler. He's stuck on 5-homers for like, ever. That said, made a game-saving catch, robbing the Brewski's of a homer in the bottom of the 8th or 9th.
Russell. Seems to be rounding into a more-mature hitter. Love his mitt. He should be at SS but, well, er…
Castro. Yes, he drove in three runs the other day and hit one of his patented, soft-liners over the 2nd baseman's head. BUT, he also missed the game ending grounder, yesterday and is only hitting .236. I'm betting they tried to "shop" him but found no takers as, at least for now, it appears the bloom's off his rose.  You may recall I've said I won't be surprised if he's traded. Now, I'll be surprised if they don't between now and next year. Why? As badly as Baez' K-factor was/is, his glove is supposedly, the best they have at SS. Even if they play him at 2nd, moving Russell to SS, he should be able to hit .236. BUT, his "D" is outstanding. If they ever want to contend, they need their up-the-middle "D" to be airtight.
Coghlan. Nice player. Would be fine as 4th or 5th outfielder, once Schwarbs is installed in left.
Fowler. Seems to have rediscovered his stroke but never left his mitt at home. I can't recall a Cubs' CF covering his position this well since Bobby Dernier. Though, he may become a 21st-century version of Frankie Baumholtz, playing between Soler and Schwarbs.
Starting rotation. The addition of Dan Haren did one, YUGE, positive thing, in that it put a coda, hopefully, to the Dallas Beeler era. Otherwise, it's solid. Could it be better? Yes. But I'm OK Arrieta, Lester and Hammel as the top of the rotation.
The Bulpen. Man, this is frustrating. Some of these guys seem like world-beaters, at least statistically. My fave, Strop's looking hot! Hot! Hot!…until we check out his 1-5 W/L. That's terrible for a reliever, as that means he's lost five games in which he entered with the score tied or the Cubs leading.
But there's another reason. Generally by this time, Cubs…and admit it, Sox fans…our teams are not "in it", which leaves us with the 24/7 coverage from Borebonnais.  No? This morning's S-T has given – both – the Cubs and Sox, two-pages, whilst the Jay Cutler-led Bears have, ahem, four.
But wait! There's even more! In my Inbox, this morning, the S-T has sent me an invite to – wait for it – BoreBonnais!
I mean, really, how many times do we have to read/hear/watch anything about the gross-ineptitude of their QB? Or, the previous GM/Coach tandem? Or, ownership? Really. Oh well.
Okey-dokey. Time to go. Hope you enjoyed this. I'm a bit rusty, yes. As always, your input is welcome.
Have a great day. Remember, each one is a gift, which may not keep on giving. Treat them accordingly.
DaBigFatWat